You can setup unlimited keywords for free! Keywords allow users to text a keyword to your virtual phone number and TextP2P will automatically create a contact for them and assign them to a list. This is a great way to capture new leads who are interested in learning more about what you have to offer. To setup a new keyword, go to your keyword menu on the left, and then click on the create keyword button on the top right.
Keywords can can be word or phrase, but we would recommend keeping it simple. Since keywords only need to be unique across your account you should be able to keep them to a simple word.
To create a keyword complete the below form:
Keyword - is a word or phrase the users will text to any of your TextP2P dedicated numbers.
List to assign - Is your TextP2P list you wish the contacts to be assigned to
Text Message Body - is the text message that will be immediately returned to the user after they successfully text the keyword.
Subsequent Questions - You can have the system automatically send follow up text messages to ask the user for their name and email address. The system will only ask the questions if you do not already have a contact created with that information. The contact record in TextP2P will be automatically updated with the answers the user provides.
MMS File - is if you would like to attach an MMS media file like a picture to be return along with the Text Message Body to the user when they text the keyword.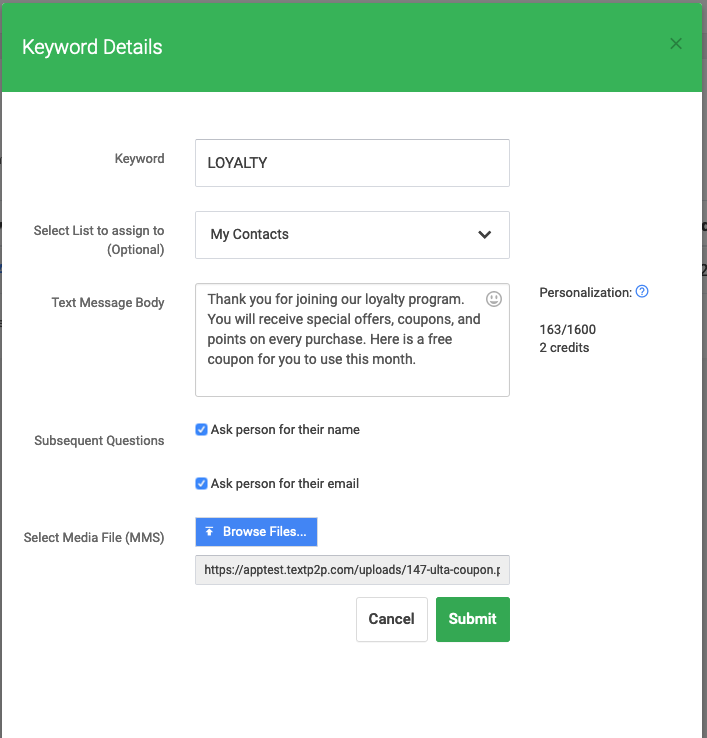 Below is an example of what the above configuration would look like in action.
QR Codes and Sharable Links
After you have created one or more keywords, you can then create a QR Code or Sharable Link that directs people to the keyword. When someone scans the QR Code or clicks the link from their smart phone it automatically opens their texting app and creates a new text message to your TextP2P dedicated phone number and the message body is populated with your keyword so all the user has to do is hit the send button. Watch this short video for a tutorial.
Learn more about how to create QR Codes at our help page.
Workflows & Surveys
Once a new contact is assigned to a list that can trigger a workflow automation (drip campaign) to kick off where they receive a series of text messages and/or ringless voicemail messages. To learn more, see our workflow automation help page.

Keywords can also be used to start an in-text MMS text survey. See surveys for more information.
TextP2P does not support sending keywords to a short code like 69000. Our system uses 10 digit local numbers so that it is person to person. Short Codes are used for mass marketing texts and are now being blocked by many of the carriers.
If you would like a vanity number we can help you purchase one and port it over to us to use for keywords and texting. Just contact support@textp2p.com if you are interested in getting a vanity number to use.