Learn how to incorporate QR codes into your SMS strategy, from growing your contact list to creating interactive advertisements.
In our contactless society, QR codes have become more useful than ever. We use them to open up menus and check out special offers we see on ads. But did you know you can also use QR codes to send texts to your customers? QR codes are actually one of the easiest ways to grow an SMS marketing subscriber list. All they need to do is point their camera ーyou can set up the rest to make opting in to receive your messages a breeze. First, let's get some background information on QR codes.
What Is a QR Code?
A QR code is a type of barcode made specifically for "quick reading" on mobile devices. QR codes communicate information like links, addresses, contact information, and SMS messages when you scan them.In the past, you needed a special app to scan QR codes. Now, anyone can scan and read a QR code using their phone. Just open your iPhone or Android's camera app and hold it up to the code like you're taking a photo. What happens next is up to whoever designed the code. It could redirect you to a web page, a download, or open up a pre-populated text message.Want to see how it works? Scan this QR code now:
Now that we've explained what QR codes are, let's talk about how to set one up.
How to Set Up a QR Code for Texting
There are a lot of tools on the internet that help you create QR codes for text messages. One of the easiest to use is this free
QR Code Generator
. All you need to make your code is:
Your TextP2P assigned number
A keyword or message to auto-populate upon scanning
A CTA (call-to-action)
For this example, let's pretend we're a realtor who wants to create a QR code for their next open house.
1. Input Your Information
When you open the QR code generator, select SMS.
From there, enter the number you want contacts to text. Don't include parentheses or a dash (or it won't work for iPhone users). Write the message or keyword for your open house in the message section.
2. Download Your QR Code
Once your information is added, you'll want to click the save icon to download your QR code as an image.
3. Combine Your QR Code and CTA
Add your QR code to all of your marketing materials. You can include the code anywhere you would normally advertise your keyword. Now anyone who views the advertisement has the option to text the number and keyword, or if they're in a hurry, hold their phone up and scan the QR code to text you. When their phone reads the code, it automatically opens their messages app with the number in the contact section and the opt-in keyword in the message body. All they need to do is click send. If you're not a graphic design wizard, tools like
Appy Pie Design
or
Canva
make it easy to put together quick advertisements like this one.

Put QR Codes to Work in Your SMS Marketing Strategy
If someone sees your QR code, they can take out their phone and scan the code to automatically open their SMS app with the number and message fields ready to go. This opens the door to endless possibilities. You can use QR codes to:
Grow your SMS list
Create a QR code that sends a keyword to your number.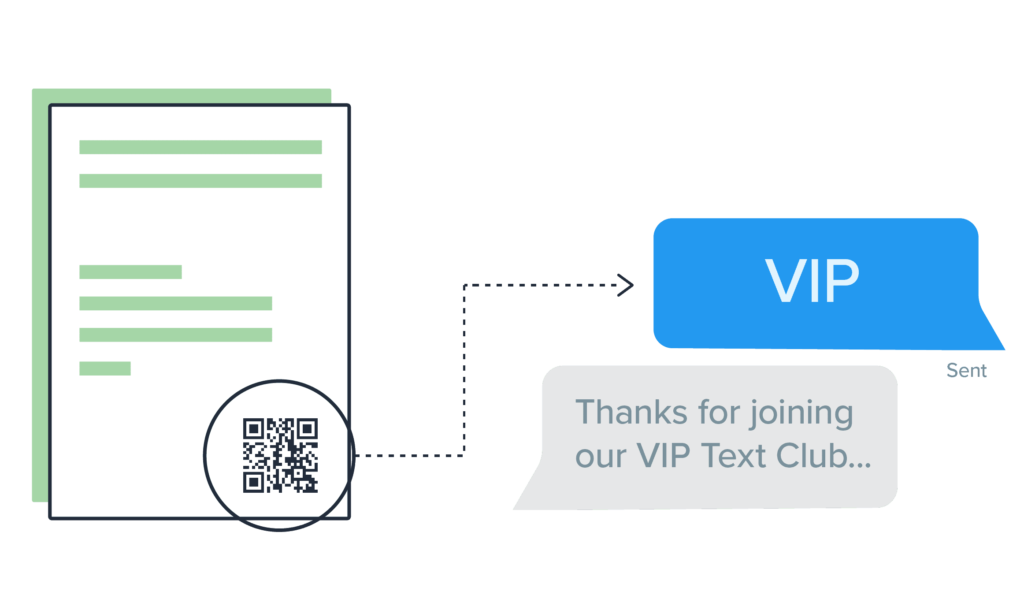 Provide customer support
Add a QR code to your business card, brochure, or flier that says, "Scan this to get in touch with our team." The code can open a pre-written text that says, "I need some help with your product."
Collect contact information
Create a QR code that launches a Data Collection prompt to collect phone numbers and emails.
Drive downloads of your app or e-book
Generate a QR code that opens a text requesting a link to your digital product. This way you can grow your contact list and send them important content.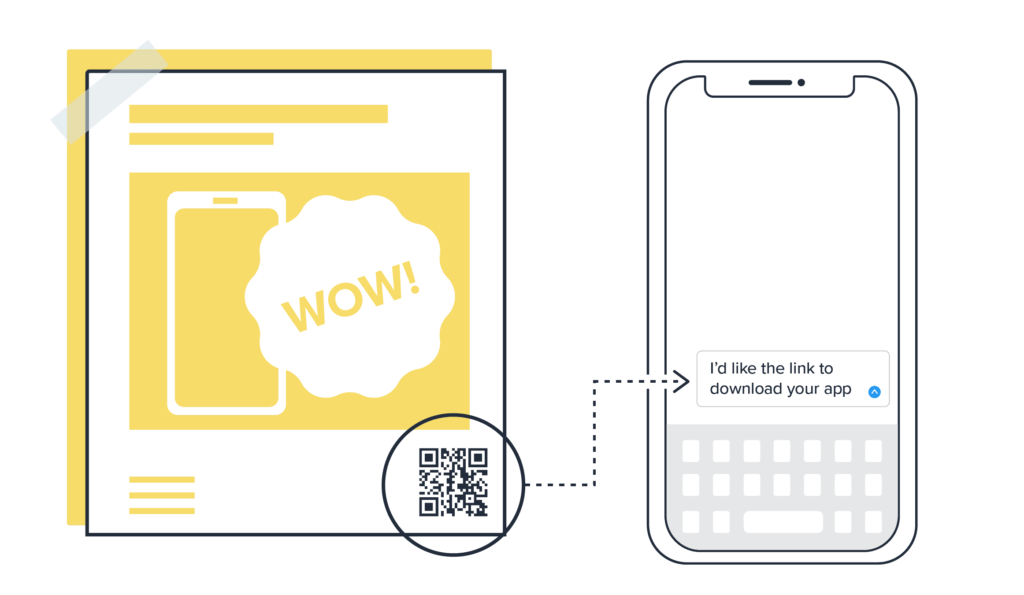 Take reservations
Create a QR code that sends a text requesting a reservation or spot on a waiting list. Your code can also serve as an RSVP for an event like a webinar or get-together.
In short, any way you would use a text to communicate with your contacts, you can translate into a QR code to grow your audience. Ready to make QR codes the star of your text marketing strategy?