What Is Google Calendar?
Google Calendar is an online scheduling and time-management calendar service that works in partnership with the greater "G Suite". Designed with teams in mind, you can use the platform to schedule meetings, set reminders, and easily share your schedule with coworkers and clients. Multiple calendars can be created within the platform to cater to both the individual and the team. Better yet, the platform is free with a Google account!
How can it be integrated with TextP2P?
By using Zapier's free integration portal you can hook up Google Calendar to TextP2P in order to add contacts, send texts, or start workflow automation. Below is some of the events that can be triggered and integrated with TextP2P. Want to see a full list? Visit Zapier.
When this happens in Google Calendar…
Do this in TextP2P…
New Event
Add Contact
Event Cancelled
Remove Contact
Event Ended
Send SMS Message
Event Start
Send MMS Message
New or Updated Event
New Event
New Event Matching Search
How Do I Get Started?
A few minutes now can save you hours later. Here's how to connect the two apps in just a few easy steps.
Sign up for a Zapier account. Get started with a free forever plan and 100 tasks per month.
Authenticate your Google Calendar and TextP2P accounts. Log in to Zapier. Visit Connected accounts, then search for the two apps.
Select your trigger. What event do you want to launch your automation?
Select your action. What do you want to happen when the event takes place?
Done! Now the tedious stuff will be taken care of so you can focus on the big picture.
Need more guidance? Visit our help center for step-by-step articles and videos.
How to Send SMS Reminders with Google Calendar?
The first step is to log into zapier.com and click the button to "Make A Zap". Under the trigger section you will search for Google Calendar and select "Event Start".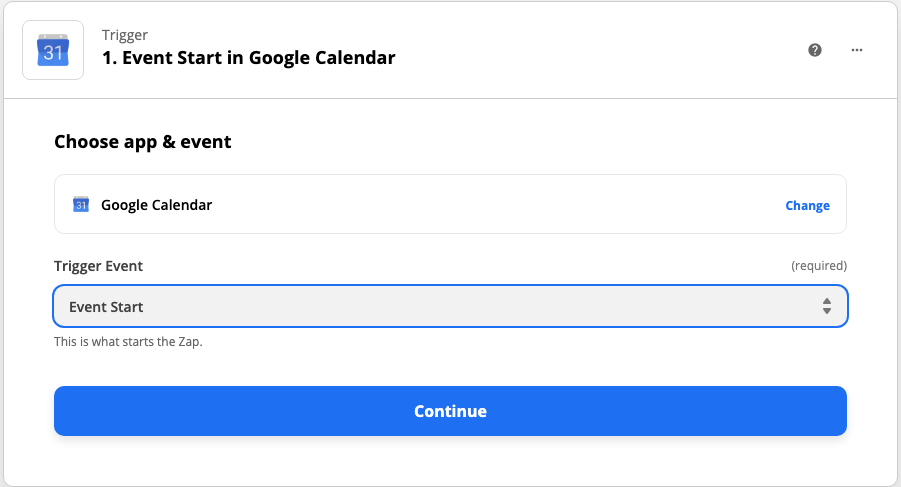 Then you will connect to your google calendar and set up the time before the meeting you wish for the reminder to sent. In the example below I set it to 15 minutes, but with the free version it's not exact and Zapier recommends allowing 16 minutes or more. I also included a search team of "Reminder:" which means that only calendar events containing "Reminder:" in the name will be sent a text reminder.
Now proceed to the Zapier Action step. Search for TextP2P and select the action event of "Send Text Message" and hit continue. Connect to your TextP2P account. If this your first time connecting to TextP2P you will need your API username and secret key which you will find on your application screen.
Now setup the action by choosing the location of the phone. In the example below I choose that the phone number will be in the location field, but you could also put it in the description. Define your text message and that's it.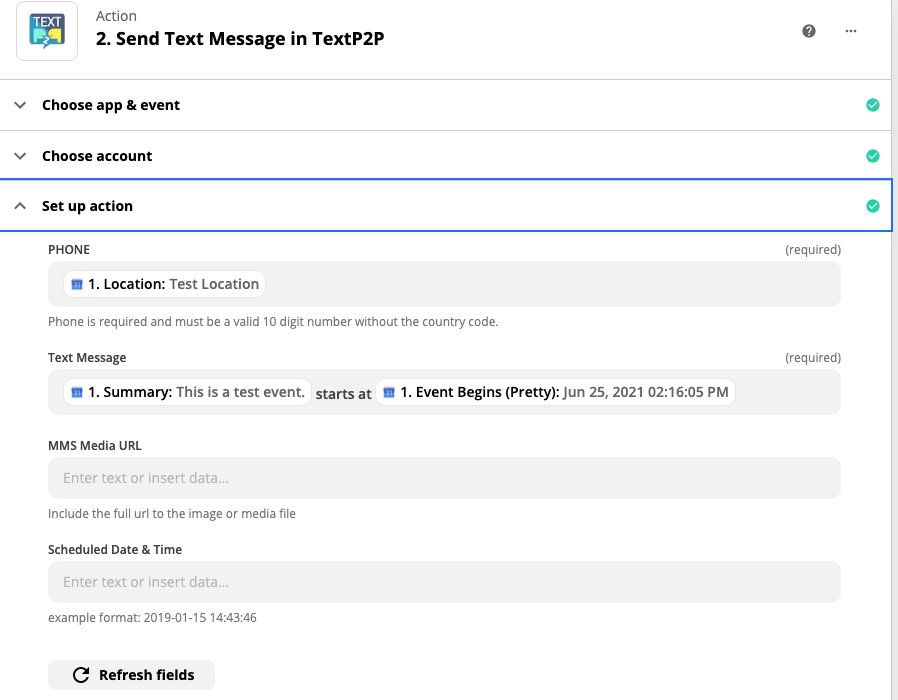 If you try testing it you might get this error because your test data does not have the phone number in the location field. Example:
Simply click the link to skip the test and turn on the zap and you can test it by creating an event on your google calendar with your phone number in the location field.
Now you're ready to send Google Calendar text reminders to your customers, patients, coworkers and more.