Before you send SMS campaigns, you need to have express consent from your subscribers. Read this article to learn more about consent.
Express consent is a legal term related to compliance and, most frequently, importing contacts for the purposes of sending SMS marketing and communication messages.
According to the U.S. Federal Communications Commission (FCC), express written consent, as defined in the Telephone Consumer Protection Act (TCPA) and the FCC's implementing regulations, is permission given by someone on paper or electronically to receive marketing messages sent using an autodialer. In addition to agreeing to receive those autodialed messages, the recipient should acknowledge that they understand that they don't have to agree to receive them as a condition of any transaction with you.
The FCC definition includes express written consent given on website forms, in a recorded verbal agreement, or by selecting a specific telephone key when prompted (assuming the call in which that keystroke is given was legal in the first place, or was an inbound call the consumer made to you).
💡The three most popular methods of obtaining express consent are keywords, web forms, and paper forms.
Keywords
Here is an example of a keyword or phrase opt-in. Tell customers to text "Pizza House" to 555-555-5555 to receive a free order of bread sticks on their next visit. Be sure to include your company name in the response, how many messages they can expect to receive/month and how to opt-out.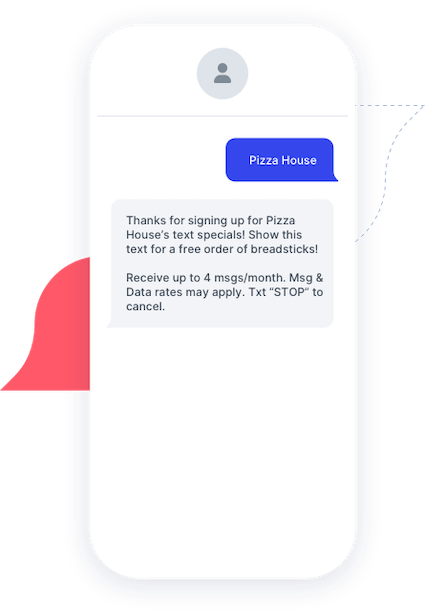 Online Web Forms
Customers can fill out a form online to sign up for your SMS marketing list and authorize their consent.
Clearly state that the customer is agreeing to opt-in to your SMS marketing database when they provide their phone number to your business.
Here's some sample language for express written consent via web forms:
By pressing "[Name of Button, i.e., 'Submit']," I agree to receive recurring messages from [Company Name] to the provided mobile number and also agree to the [Company Name] terms and privacy policy at [link]. Message & data rates may apply. Reply STOP to cancel. Reply HELP for info.
Paper Forms
Paper forms are outdated, but they work the same as online web forms. In this scenario, a customer can complete a form in writing to sign up for your SMS marketing database and offer their consent.
You still need to include the same disclaimers on your paper form so customers know that they are agreeing to receive SMS marketing messages from your business.
Why does express consent matter?
Per our terms of service, the individual, account, and/or user responsible for sending messages via a TextP2P account is ultimately responsible for ensuring that express consent has been obtained (as well as documented for verification purposes in the event of a compliance audit or formal complaint).
Moreover, violations can be expensive and can result in termination of your account.
To learn more about legal requirements and the other elements related to compliance, check out our article on Text Message Laws.